I just saw this on CNN's Politics page and had to capture and post it.
Yesterday, of course, was Yom Ha'atzmaut, Israel's independence day, which falls on the 5th of Iyar ה' באייר
Senator Obama has a
Hebrew blog
and has campaign stickers with his name in Hebrew (my good friend Friend (not a typo) ordered a whole bunch and was handing them out).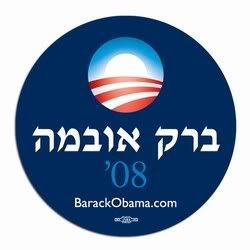 He wrote the following for the Israeli newspaper Yediot Ahronot (I assume his ample Hebrew-language team translated it for him). in honor of the 60th anniversary of the establishment of
Eretz Yisrael
.

As the festivities surrounding Israel's 60th anniversary get underway, Israelis can be forgiven if they don't feel in an entirely celebratory mood. ... It is precisely at this moment that, despite the challenges, Israelis should take stock of what they have built, and their hearts should swell with pride. And it is also at this moment that Israel's friends around the world should raise their voices in a chorus of support. Because Israel has more than just friends -- it also has legions of admirers. I am proud to be one, and I know that millions of Americans join me in saluting the State of Israel and its vast array of achievements over these past 60 years.

From building one of the world's most vibrant democracies, to agricultural advances, biomedical breakthroughs, and strides in immigrant absorption; to creating a powerhouse economy, a world-class military and vibrant cultural and literary scenes, Israel has not only made enormous leaps for its own citizens, but it has lived up to its founders' vision of being a "light unto the nations."
...
The 60th anniversary is also an ideal time to celebrate this special relationship between our two countries. Washington and Jerusalem not only share ideals and values, but we share common interests. The bond between Americans and Israelis remains unshakable. It is a tie that every American president (whether Democrat or Republican) has and will continue to uphold. ... As president, I would further deepen our already strong bilateral ties, particularly in the areas of defense, science and energy.

Still, there is no greater gift America can give to Israel--no better way we can salute our Israeli friends on this important anniversary -- than to redouble our commitment to help Israel achieve its goal of true security through lasting peace with its neighbors. The United States does Israel no favors when it neglects opportunities for progress in Arab-Israeli peacemaking.

Israelis can always count on the United States to stand with them against any threat, from as close as Gaza or as far as Tehran, and to ensure that Israel has the means to defend itself. Israel has real enemies, and we will face them together. But standing with Israel also requires America to do everything it can to reduce and ease the conflict with the Arab neighbors. To do any less would be to prevent Israel from achieving its full, extraordinary potential.

Israelis have much to be proud of as they approach this anniversary, and they should know that their friends and admirers in the United States are eager to preserve and expand upon our unique relationship with the Jewish state. May the next 60 years bring Israel continued growth, increased prosperity, genuine security, and the gift of an Israel at peace to pass on to the next generation of Israelis.

Now, some may complain that his hand, once again, is not over his heart. I cannot remember for sure whether or not we put our hands over our hearts when we sang Hatikvah (Israel's national anthem) at the
Solomon Schechter Day School of the Raritan Valley
. In any case, I highly doubt Hatikvah was playing at that moment.
Of course, it would have been quite fitting to play Hatikvah. Why? Hatikvah means "the hope." Quite fitting for the "Audacity of Hope" candidate, I think.