So sadly there was a terrorist attack
in India
today:
A bomb tore through a crowded cafe popular with foreigners on Saturday in the city of Pune in western India, killing nine people and wounding 53 near a famed meditation center.

The blast threatened to damage new efforts to reduce tensions between India and Pakistan, with Hindu nationalist leaders already placing the blame for the explosion at India's Muslim neighbor.

Indian intelligence services say it is highly likely that the bomb was meant for the local Chabad House, several dozen meters from the cafe. It remains unclear whether the coffee shop, a popular tourist spot, was the target for the bombing, because the bomb apparently detonated after a waiter opened a bag left on the premises.
Now, I had never heard of Pune before, but that does not mean much. After all, I'd only heard of the ginormous 3 (Mumbai, Kolkata and Delhi) and Bangalore (because of it being such a major high-tech center), or at least that would have been all I could name if challenged.
But apparently Pune is pretty huge, with over 5 million in the metropolitan area. So I checked the Chabad website (chabad.org) to look for the Chabad house there; nothing was listed.
I soon found out why. Here is a picture of the Pune Chabad house, run by Rabbi Betzalel Kupchik.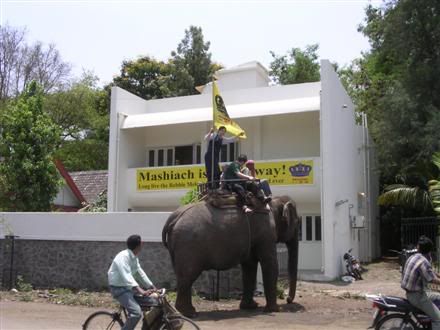 No, it's not the elephant. While (I'm pretty sure) elephants are treyf, so are horses, and it is clearly permitted to ride horses.
It's the big yellow flag, which says יחי אדוננו מורנו ורבינו מלך המשיח לעולם ועד
signifying that this Chabad house is on the hardcore Meshichist (i.e. they believe the 7th Rebbe of Chabad, Menachem Mendel Schneerson ז"ל is the Mashiach (or Moshiach, as they pronounce it)) end of the spectrum.
The photo came from here
Chabad.org, while (like the overwhelming majority of Lubavitchers) will presumably not rule out that Schneerson is the mashiach, they do unequivocally acknowledge the fact that he is deceased, and their shaliachs are, as far as I know, taught not to even mention the subject of the Rebbe and the mashiach to those not already deeply committed to Chabad (whether they mention it at that point, I do not know).
The Chabad.org branch of the Chabad I believe controls the vast majority of Chabad houses in the United States. However, I believe it is another story in Israel and elsewhere. I'm going to have to look into this.